FHR 101 Fetal Doppler Heart Rate Monitors
The Safe Care FHR Monitor 101 is Lightweight and portable. It combines extreme sensitivity, exceptional ease of use and incredibly clear, static-free signal for the best possible sound into compact pocket-sized package.
Model Specific features include:
Dust proof
The probe is designed to be special fall-off-proof
High quality probe ensures that the sound generated is crystal clear and free from all other local interferences
Has an built in Hi-Fi speaker to hear clear fetal heart beat sound
It has an audio out put port which may be connected with an headphone or a recorder with audio input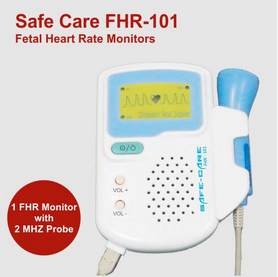 "Provide quality products at reasonable prices with unparalleled customer support to improve the quality of people's life"