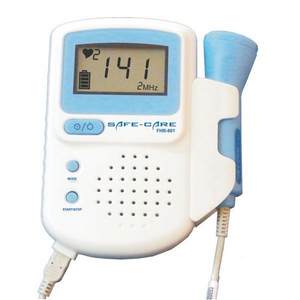 Safe Care Fetal Doppler Heart Rate Monitors has been designed to capture the first sign of a fetal heart beat. Being small, lightweight yet robust it will be reliable diagnostic tool for years to come.It is a low-cost and high performance fetal heart beat detector .It can detect real-time FHR (Fetal Heart Rate) and average FHR. It is suitable for use by the private obstetrician's office, antepartum clinic, obstetrical department of hospital and remote monitoring situations, or even for use at home.
Easy-to-use
Long life design
Dust proof
It has a large backlit LCD screen to display the FHR (FHR-801 only)
Has an built in Hi-Fi speaker to hear clear fetal heart beat sound
High-sensitivity probe can be changeable.
Optional 3 Mhz is also available
The probe is designed to be special fall-off-proof
It has an audio out put port which may be connected with an headphone or a recorder with audio input
It uses 9V alkaline battery which has a approximate life of 3 months in standby mode or a life of 5 hours of continual use
The rechargeable battery and recharger is optional
Select from Fetal Doppler Heart Rate Monitors:
"Provide quality products at reasonable prices with unparalleled customer support to improve the quality of people's life"