Blood Glucose Test Strips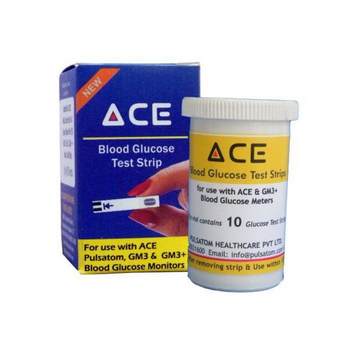 Glucose Test Strips for use ACE/ GM3+ Glucometer are available in various pack sizes of 10's, 25's and 50's Test Strip per vial. All strips sent are of the latest manufacturing. Strips have a shelf life of 1 year for an unopened vial.
Customers having older Models - Pulsatom Glucomonitor (1996), GM3 Glucometer (2003) or Glucosmile Glucomter (2009) or any other brand of Glucometer can exchange their meter with the new ACE Glucometer at a nominal cost with purchase of 50/ 100 test strips. CLICK HERE to contact us to upgrade/ exchange your Glucometer.
Select from Blood Glucose Test Strips :
"Provide quality products at reasonable prices with unparalleled customer support to improve the quality of people's life"